I've been reading through
Startling the Day's
old posts and came across
this one
with her all time favorite book and movie recommendations. I always have people asking me for book and movie ideas (I own a lot of books and movies...), and I often become a library lending them out.
Because there are so many good books I've read out there, I'm going to limit my list to books I've read waaaay more than once... but if you want more recommendations, trust me, I have a HUGE list.
So without further ado, here's what I think is worth your time over and over again. If you need to borrow any... well, this library hasn't been hit by the harsh library tax cuts yet, so we're still open 7 days a week.* So get ready to lather in the shampoo, rinse, and repeat as desired.
Ella Enchanted
by Gail Carson Levine - If you've heard of this title, it's most likely from the movie with Anne Hathaway. Well, hate to break it to you, but the movie was like the Shrek version of this book... as in there are ogres, which have layers, like onions. Long story short, the movie is the cheese-tastic layer of the onion (although I do like some of the music and Hugh Dancy), but the book is FANTASTIC. It's probably one of my all-time favorite books, and I've read it so often that the poor paperback is worn and torn. Yes, it's a book written for 12 year olds. I don't really care. I can't wait to read it to my little girls someday, if and when I get married and if I have girls. If I don't, then I'll have to borrow other people's little girls so I can read it to them. Totally not in a creepy way, in a "I'm teaching you to love books" kind of way. It might be better if I just have my own kids...
You're only allowed to read the version with this cover. Any other cover is lame. Yes, I judge a book by it's cover.
Pride and Prejudice
by Jane Austen - If you are a woman and you haven't read this book, shame on you. If you are a man and haven't learned how to be Mr. Darcy so I can fall in love with you, shame on you.
Bel Canto
by Ann Patchett - This is a beautiful story about the power of music bringing people together. Go. Read. It. Now.
The Bible
by God - I've always wanted to read the Bible the whole way through, even though I've heard most of it many times. I recently found this site to read the Bible in a year, and I think I'm going to give it a try! I'm sure I'll update how it's going... once I get started... if that happens.
Me in front of the Globe Theatre, where I saw 2 plays!
Anything by
Shakespeare
- I first met Shakespeare in Honors English my freshman year of high school and it's been a wonderful love affair ever since. My goal is to read all the plays and see them all performed. I've read and critically studied at least 14 of his plays (many of them more than once) and I've seen 9 of his plays performed (again, many of them multiple times)... so it's a life goal. I try to take my time and enjoy our love.
Harry Potter
by J.K. Rowling - Anyone who knows me for a span of longer than 5 minutes will not be surprised to see this on the list. I've actually lost count of how many times I've read the books... I'm also a fan of listening to the audio books - Jim Dale just has an amazing voice and he acts out each character. If you haven't listened to him read them yet - be sure to check it out - he makes the HP experience a million times better than it already is.
Atonement
- by Ian McEwan - I'm actually reading this again now. It's a beautifully written novel that makes more and more sense each time you read it. Even if you don't understand what's always going on, the words just flow like poetry through your eyes into your brain.
Noting says romance like the gift of a kidnapped, injured woman!
Stardust
- To be honest, I'm not sure if I can explain why I love this movie. I just do. I seriously notice something new every time I watch it. I like to think of it as a less cheesy (but still plenty of cheese!) version of The Princess Bride (Mawwiage!), but really, I just think the acting is amazing. The score is amazing. The characterization is amazing. I just love watching it over and over again.
Pride and Prejudice
- Unlike the rest of the female population, I have only seen the BBC version once and couldn't get past the hairstyles... however, I am in love with the Keira Knightley/Matthew MacFayden version from 2005. When I say "in love", I really mean it. I can always watch that movie and never be bored. The score is also amazing. The gazebo scene in the rain? *Ahhhhh*-mazing.
National Treasure
- This movie just holds so many memories for me... being on one of the four channels I had while living in London, every single night (no joke)... quoting the lines with my sisters... fighting over whose boyfriend Riley was going to be with the sisters (I usually won, I played the "oldest" card)... watching it with my Grandma the summer I lived with my Poppy and Grandma... running around DC acting out all the scenes (OK, I haven't quite completed this yet...). I just love American history brought to life, and I think this movie makes it fun and adventurous... and Riley is really witty and cute.
The Holiday
- This is one of those "chick flicks" that I've actually heard guys admit that they like. I also think it's just a wonderfully weaved story about love and the different ways that people deal with and learn about and fall in love. The characters are all really great to watch, and Jack Black's character would totally be a guy I would fall for with his geeky cheesiness, while Jude Law's character is also a guy I would fall for with the literature loving and cute glasses. Hopefully the real life version will be a perfect mesh of the two!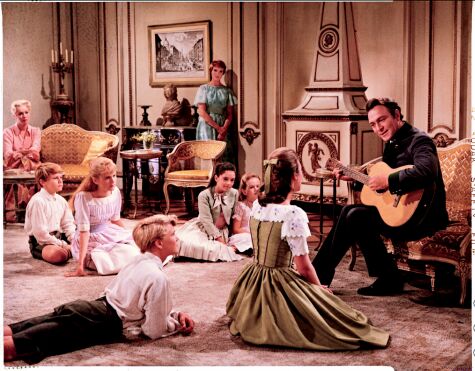 That's me in the green, singing the harmony.
The Sound of Music
- I am 16, going on 17!... Do I really need to explain more than this? OK, good, I can continue singing. Edelwiss, edelweiss, every morning you greet me...
She's the Man
- I only list this because I can probably quote the entire movie... because the lines are hilarious. My youngest sister and I used to watch it together all the time - she knows it better than I do. It's also based on Shakespeare's Twelfth Night, which is quite possibly my favorite comedy. So it's a win-win.
Hope you find some things you like! Maybe next time I will feature my favorite music and TV shows.
*So, I went to the library today (Thursday) to return some DVDs and pick up a book and some more movies... and they were totally CLOSED. What library is closed on a THURSDAY!?!?!? That's so random. I hate cutting library budgets. They feed the minds of America! Let's increase taxes on video games instead...